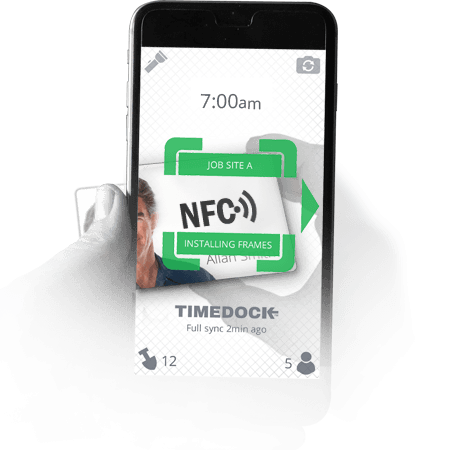 Get your staff clocking in with NFC, for instant online job timesheets
Start Free Trial!
How NFC time clocking works:
Employees approach their supervisor when they arrive to work, who taps his/her phone to the employee's NFC identication tag to start counting time. Additionally, a job code and/or activity code can be assigned to categorise the hours worked on the employee time-sheet. Then, at the end of the shift, the employee again approaches a supervisor who tags them out. -Watch demo video
Get some blank NFC tags

There are many online stores for purchasing all shapes and forms of NFC tags. We recommend the following two providers:

Register at TimeDock.com

We've made it quick and easy, with just a few simple steps. -Sign up now

Enable NFC on supervisor Android phones

Navigate to Settings > Wireless & Networks > More.
Tap on the NFC switch to activate it.

Download TimeDock App

click here

Connect TimeDock app to your account

The first time you open TimeDock on your phone you'll need to enter your email and password, as an admin who can encode NFC tags, to connect the device to your TimeDock account.

Encode blank NFC tags

With the TimeDock app set to 'clocking in' mode (the square in the middle will be green), tap a blank NFC tag to the back of your device. If you haven't done this before you might need to figure out the exact placement on your device where the sensor is positioned.

On successfully tapping the NFC to the sensor you'll be prompted with a list of employees from which you can encode. Follow the instructions on-screen to complete the process.

Tap away!

Tap the NFC tag to the phone (with, or without, the app open) to start workers on the clock and view timesheets online in realtime.