Realtime timesheets for cleaning companies
Know when your staff enter and exit location, checking in with QR Codes or NFC tags.
Having a cleaning business means you're always on the go, from one client to the next, so keeping accurate records of where you and your staff have worked is vital to ensuring the business remains productive and profitable.
Click here to watch a short video of
Grubless Cleaning using TimeDock
TimeDock offers you a mobile solution where you and your staff can easily clock in and clock out of jobs, scanning in when they arrive on location. Our unique RFID/QR identity cards assigned to each cleaning staff come complete with an ID number and code, and you can even add QR Codes to your different cleaning locations. Cleaning personnel use our time clock app to scan in, ready to commence work.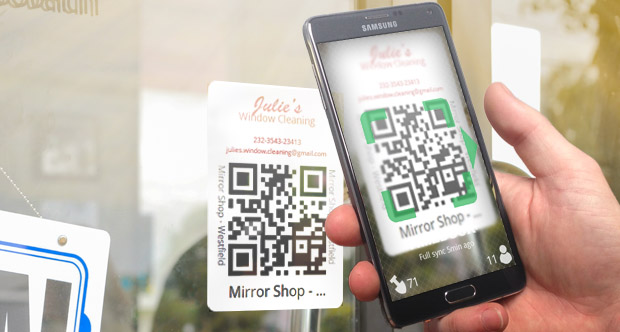 This means that cleaners can get on with efficiently completing their duties, knowing that their time is recorded accurately whilst they work.
Not only does this improve the integrity and accuracy of timekeeping but ensures your cleaning staff and contractors develop a habit of recording their time, daily or every time they move to a different premises, avoiding any payroll issues at the end of the week/month.
As a business owner, this means that you're able to track your staff hours more easily, and instantly, as to when they are on client premises. Not only does this ensure accuracy, but it means you can safely and confidently provide logs or reports of when, who and where your employees completed work.
Here's what Martina, Division Manager from Erlon Ltd, has to say about TimeDock:
I can see straight away what has been done. It saves us, definitely time and money.
TimeDock eliminates the hassle for cleaning staff to forget to enter or complete their timesheets by ensuring that work cannot commence unless they clock in with their TimeDock scanner or identity card before they start the job.
When it comes to payroll, before TimeDock, you may have had to reconcile different timesheet methodologies used by staff and contractors. Now you can take advantage of checking in remotely, which ensures timesheet accuracy and consistency for every staff member.
We've made it even easier for you to try TimeDock for yourself, our friendly support staff are a click or phone call away and can help tailor a free trial to cater to your needs so you can explore our services for yourself. Best of all we'll guide you through the setup and we're here 24/7 should you need help with anything.
Click here to connect with our team
or phone +64 9 444 1384
to log a callback from our sales team