iPad Time Clock
Turn your iPad into a QR Code employee time clock, with TimeDock.
Register trial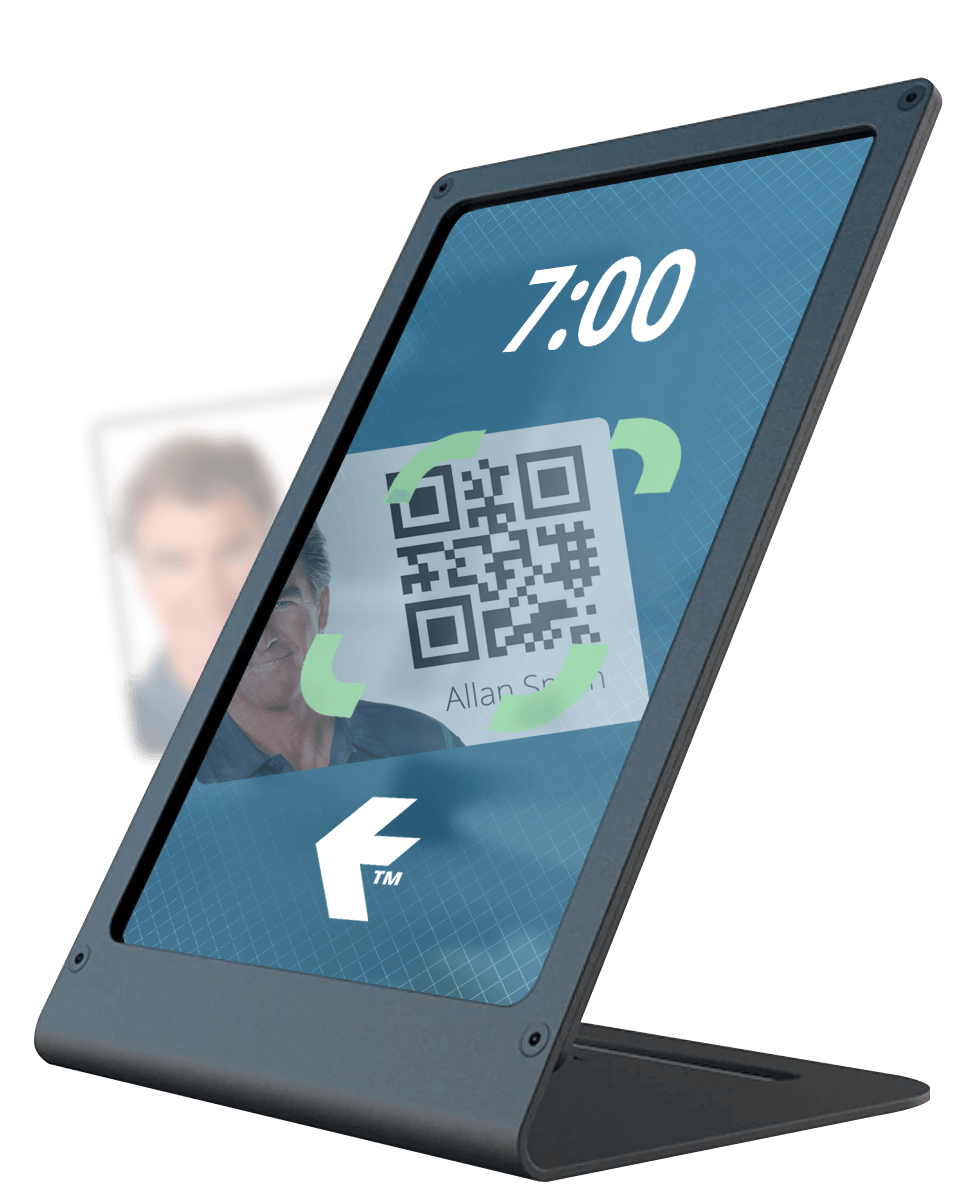 * Interface varies slightly.
Image depicts an iPad using a
Heckler iPad Stand
.
---
How much time could be better spent if you didn't have to key in yesterday's timesheets every day?
Slash the time you spend processing job hours and access your time-sheets in real-time, from anywhere.
Have you ever wondered whether your employees could swipe-on at an iPad to start work, rather than fill in the attendance register by hand?
And wouldn't it be great to know who's on-site, in realtime? In an emergency, knowing who's present could really come in handy.
But touch screens get dirty. They don't look so good with greasy fingerprints. And let's ignore the unseen pathogens. With TimeDock you can use two or more devices -one each for clocking in and clocking out.
With TimeDock on iPad, or other tablet devices, your existing hardware becomes a network of cloud-based contactless punch clocks. Employees scan their QR Code badges to start work. You can review their entries and timesheets in realtime, right from your TimeDock timesheet hub.
Need to make some tweaks? No worries. Administrators can add missed entries or edit mistakes.
Then on payday, export the hours into a growing list of integrated payroll applications. Get in touch today, and we'll see if we can add yours.
We also have purpose-designed punch clocks that are dust and splash-proof, plug-and-play, and synchronise with all of your other devices. Great for harsher environments such as workshops, they really complete the picture. And for out on-site, our mobile time clock app works seamlessly with all of the above.
Talk to us today about how we can help your business streamline your time and attendance, and free up your time from chasing hours and keying time entries manually into the computer.
Message us about your requirement
or phone +64 9 444 1384
to log a callback from our sales team
---
Aren't iPads more expensive than regular time clocks?
If you don't have a spare iPad handy, why not consider one of our purpose-built wall-mounted time clocks?
Our purpose-built time clocks are affordable, robust time and attendance appliances. They work alongside your other time tracking devices such as iPad, seamlessly synchronising with your TimeDock dashboard.
Register a Free Trial
---
Here's what it'd take to become best-in-class for time and attendance...
$4
per person, per month
Let's chat
or phone +64 9 444 1384
to log a callback from our sales team