Manual-entry timesheets are costing you, big time!
Written by Le-roy Staines, Founder of TimeDock on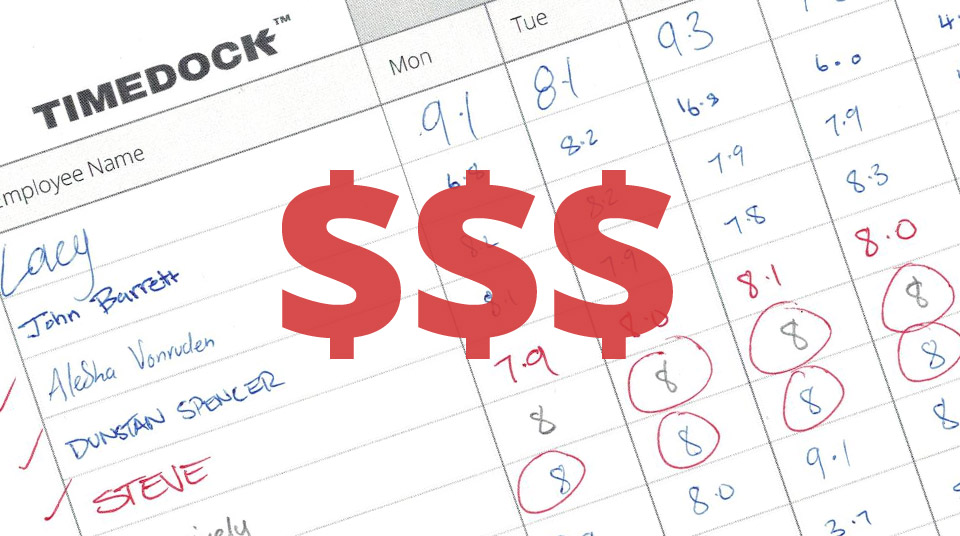 (Tip: Scroll to the bottom of this article for a quick summary of our top 5 reasons why TimeDock trumps manual time entry systems).
We get this question fairly often, and, while we do allow administrators to make manual entries, we're never going to let individual employees do that. Especially not just willy nilly.
Why? (Ahem, Why NOT I should say).
Because convenience-based features don't always translate into high-efficiency business improvements.
In a nutshell: we want your organisation to realise a substantial return on investment. That return should be in the form of earnings, time, increased growth potential, improved business performance and less hassle for everyone.
So, without further adieu, here are our top five reasons for NOT giving your employees (or even supervisors) self-service access to enter their timesheets manually:
1. You're throwing away earnings
The most detrimental thing about manual time entry is that there is very little validation structure to how or when it's recorded. With TimeDock, employees have to swipe in when they start work, and when they leave work, whereas other systems will let them backtrack and enter their time after the fact. Guess which habit they regress to when you allow them to do this?! You guessed it! They're usually so busy that they'll 'do it later'.
And have you ever wondered how accurately people remember their hours worked?
When I worked in construction, other foremen would wait until just before payday and then sit in the lunch room trying to 'make their hours work'. Not just for them, but crews of up to fifteen staff! And guess what happens when they're unsure if it was 4:15 pm or 4:45 pm they worked last week? Guess where their optimism kicks in? I'll give you a hint; it's not in favour of the company.
2. Real-time business performance is the golden goose
Well, that isn't going to work when you let your employees enter their hours whenever they like!
With a mobile check-in system like TimeDock and our cloud-connected time clock machines, your TimeDock web dashboard gives you real-time visibility to who's clocked in, how much time they've worked and total hours per job or activity. In the digital era, why would you leave one of your most significant data points, employee hours and job progress, to delayed back-office manual entry processing?
3. Health & Safety
TimeDock's real-time aspect is excellent for compliance and health and safety.
Need to know how many staff are on site? No problem; whip out your phone and pull up the list.
Need to run a roll call for that fire drill? No problem, whip out your phone and pull up a list.
You get the point.
4. Let your supervisors do the work
The age-old paper timesheet method saw generations of payroll administrators manually keying all the data into their payroll platforms at the very last minute, not to mention correcting critical errors or timesheet omissions by the employees or the supervisors.
I once saw a timesheet submitted, filled in neatly and with all the details, without the name of the person it belonged to! Indeed, this person wishes to be paid, but good luck figuring that out at from a pool of sixty employees at eleventh hour on payday.
So, instead of funnelling all those timesheets into the bottleneck of one or two people on payday, check-in systems like TimeDock redistribute that responsibility to either the supervisors (for mobile check-in) or the employees (for wall-mounted self-service check-in).
All they have to do is swipe their employee ID card to start work and swipe it again to stop work. How easy is that?!
5. Promoting a "time to start work" culture
Believe it or not, having a central location for staff to clock in such as a time clock machine on the wall at the entrance to your work area is a great way to get your employees into the mindset of starting work. Without that transition, workers will often 'be at work' without a clear definition of whether they are on the clock or not. More often than not, their timesheets will indicate that they 'were at work' from when they arrived on site.
With a swipe-card attendance system, they're ready for work once they check in.
---
Recap: Top 5 reasons why TimeDock trumps manual time entry systems:
Reduce wages spent by eliminating errors, timesheet rounding and timesheet fraud.

Get access to critical business metrics (attendance, job hours, etc.) in real-time.

Improve health and safety in the workplace, with real-time attendance logs for audits or emergencies.

Take the weight off your shoulders the day before payday -let your supervisors and employees be more responsible for checking themselves in when they start work.

Promote a "time to clock in and start work" culture.
Let us help you figure out how TimeDock could drastically enhance your organisation's time and attendance responsibility! Send us an email to info@timedock.com or phone +64 (0) 9 444 1384 to leave a message with reception, and we'll return your call as soon a possible.

This article was written by

, CEO of TimeDock - web-based time and attendance platform
---