The EASIEST remote timesheet system for iOS and Android
Start Free Trial!
TimeDock is the easiest mobile time tracking solution for remote work locations. All you need to do is print some ID cards for each of your staff. Supervisors can then, with their mobile phone, scan staff into work as they arrive. Time tracking has never been so simple!
$5
per employee per month
Start Free Trial!
Instant online timesheets
Exceptionally simple-to-use mobile time tracking, without all the fiddly buttons that other mobile apps use.
By using TimeDock, with mobile apps for iOS and Android, organisations decreased administration by up to 60%.
TimeDock can also replace your old punch clock machine by installing it on iPads and Android tablets.


Timesheet features you'll use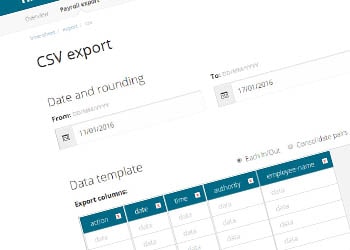 Custom CSV Export
Create a customised export for Excel, or third-party software import utilities.
Print your own ID's
Create your own staff ID cards or NFC tags, for clocking in with Android & iOS.
Job cost report
See how much you've spent on labour for each job, with real-time job cost reporting.
Timesheet quality control
Common timesheet issues are automatically highlighted on the timesheet screen.
The most intuitive mobile time tracking system, for Android and iOS.
Start Free Trial!